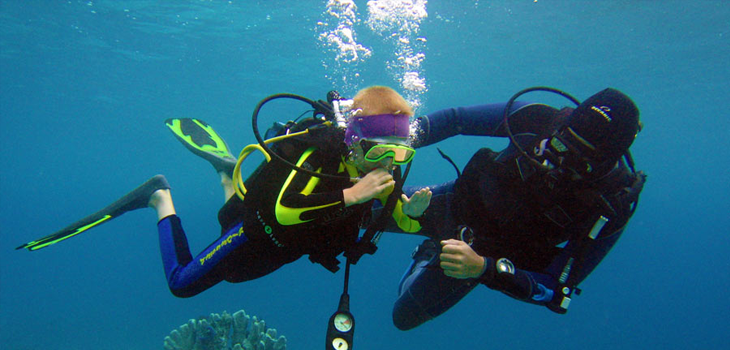 Families that Dive together, Stay Together!
Kids ages 10 and up are eligible to dive! Over the course of its existince, SCUBA diving has become more and more popular, and safer. We at Banzai Divers Hawaii use the PADI system of dive standards and education to safely guide children through learning and practicing diving the safe and fun way!
Is my child ready to dive?
All children ages 10 and up are potentially eligible to try diving or get certified. Of course, all children develop differently and at different rates. It is ultimately up to the parent or guardian to deem whether the child is physically and mentally ready to experience SCUBA. Some traits required in order to be a prudent diver include…
– ability to listen and follow simple directions
– understands simple concepts such as breathing with mouth, using hand signals, and reading numbers
– basic math and reading skills
– knows how to swim in water too deep to touch
If you are unsure whether or not your child is a good fit for SCUBA, call and talk to our friendly knowledgeable staff. We have extensive experience working with children and can help you make the right decision.
What are the different options?
As a child age 10 and up, there are two options for diving. There is the No Experience Necessary, or Discover Scuba Dive as it is sometimes called, or the Open Water Certification. The No Experience Dive is a single experience that does not result in a certification but allows the child to try diving in a small group environment. The Open Water Diver Certification is a full course done over 3 or more days where the child is introduced to diving in small steps and includes confined water training, open water training, and academic study and testing. Click below for more info on these dive options.