Atlantis
20 to 40ft (6-18m)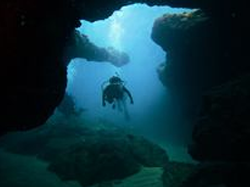 This site is like an underwater playground for divers. Everywhere you turn, unique lava topography shelters a new discovery. Weave in and out of the trenches, tubes, and overhangs that act as a series of underwater funnels that create the world class surf the North Shore is known for in the winter months.
Car Wash
30 to 60ft (10-18m)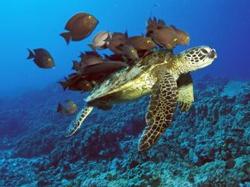 Turtle cleaning stations are common here. Watch the green sea turtles get picked clean by endemic Saddle Wrasse. Weave in and under overhangs and arches. Keep an eye out to the big blue for big gamefish and spotted eagle rays.
Nanis Reef
15 to 40ft (5-18m)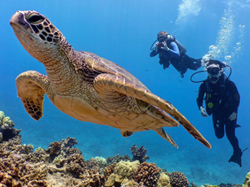 The name, meaning beautiful reef, is the perfect description for this site. Hop between a series of three basin-like formations, each with its own unique marine life. See how many giant Titan Scorpionfish you can count in the far one. Stop in the middle one to try your luck at spotting the illusive octopus. Finish it off in the last basin peeking under ledges for slipper lobster and banded coral shrimp.
Twin Arches
40 to 70ft (12-22m)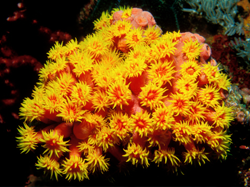 As its name suggests, this truly unique site contains two arches, one right on top of the other. Drop down the deeper one first, and hope to see the rare black tip reef shark under it. As you swim through, look in the deep crevices for a big pair of flame-back coral shrimp.  Ascent slightly to swim through the top arch covered in orange cup coral. On your way back to the boat keep your eyes peeled for one of the many day octopus that try to blend in.