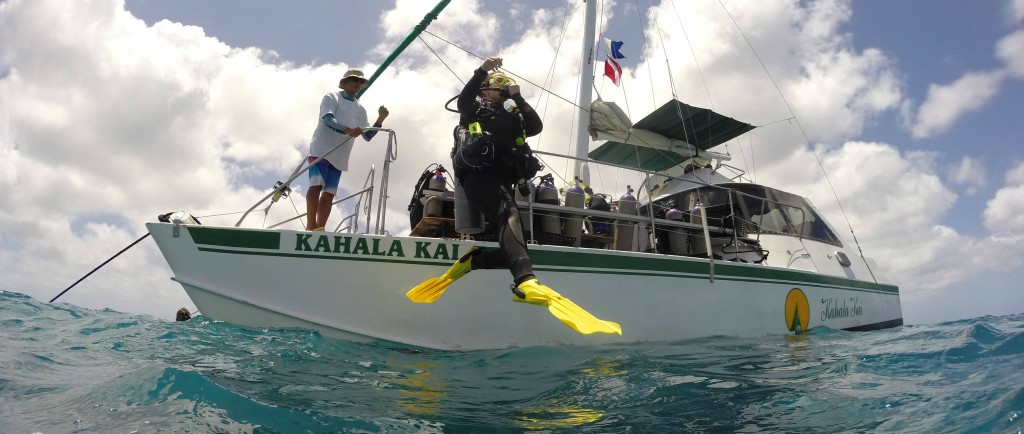 Small Group Hawaiian Boat diving
While Oahu, Hawaii has some of the most renown shore diving in the world, the variety of boat dives are ideal for all experience levels! Hop on the boat, take a seat, and experience the luxury of Hawaiian boat diving. We dive all sides of the island and base our sites daily depending on the seasonal surf. Each side of the island has its own unique sights, both above and below the water. Whether you kneel to watch sea turtles getting cleaned on the south shore, explore navy minesweepers on the west side, or navigate the exclusive sites on the north shore, you will fall in love with Hawaiian diving. Find more information about the different dive locations below!
SOUTH SHORE
Right outside of world famous Waikiki, the experience here goes beyond the diving. The views of Diamond Head and Waikiki Beach are screen-saver worthy. Spot the friendly sea turtles floating at the surface. Underwater you will also find that the South Shore is worth the time.
WEST SIDE
Venture to the side of the Island few visitors have the chance to see. Crystal blue waters meet along the entire coastline creating an amazing, tranquil dive experience. Keep your eyes out for pods of spinner dolphins, and in the Winter months the Humpback Whales breaching.
North Shore
(Seasonally available May-Sept)
This once little known gem has become a must see for visitors. World famous for its surfing during the winter months it is renown for its stellar diving during the summer months. Come see the unique lava topography that shapes some of best waves in the world!